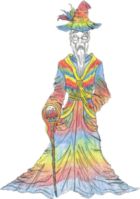 Kaleidascoopa Scentie
Kaleidascoopa has a tropical-fruity scent, and he is the most colourful of all Scenties.
His long coat shimmers in the sunlight.
Kaleidascoopa looks after the Scentville rainbow. His beautiful bottled home is at the end of the rainbow and is a magical place.
Kaleidascoopa alone knows the secret of the Scentville rainbow…..
….THE RAINBOW DUST….